Welcome to the Couples Immersion Program
Reignite Your Relationship: Discover Solutions for Connection and Intimacy

Awaken Your Inner Lover, Radiate Sensual Energy, and Embrace Wholeness
Is your relationship facing challenges such as a lack of spark, dwindling intimacy, or communication struggles?
Welcome to a transformative space where solutions meet connection – the heart of Couples Immersion. We have helped plenty of couples to withdraw the viscous cycle of detachment and non-reciprocation of affection and care. 
Leave your email below for more information
Nurturing Authentic Relationships
At Couples Immersion, we believe that love is a lifelong journey, and we are here to guide you every step of the way. If you find yourself yearning for the vibrant connection you once shared with your partner, our holistic approach can provide lasting solutions.
Why join the Couples Immersion?
Effective Communication
Master nonviolent communication techniques to foster understanding, resolve conflicts, and nurture open dialogue.
Rekindle Intimacy
Rediscover the passion and sensuality that initially drew you together.
Navigating Triggers
Learn to handle triggers with compassion, transforming challenges into opportunities for growth.
Deeper Connection
Embrace practices that cultivate emotional and physical closeness, fostering a profound bond.
Authentic Relationship
Establish agreements that support your authentic selves, fostering a relationship built on mutual understanding.
Discover Lasting Transformation
Tantra School of Love is dedicated to guiding couples toward permanent solutions for a flourishing relationship. If any of these resonate with your current situation, we invite you to take the next step.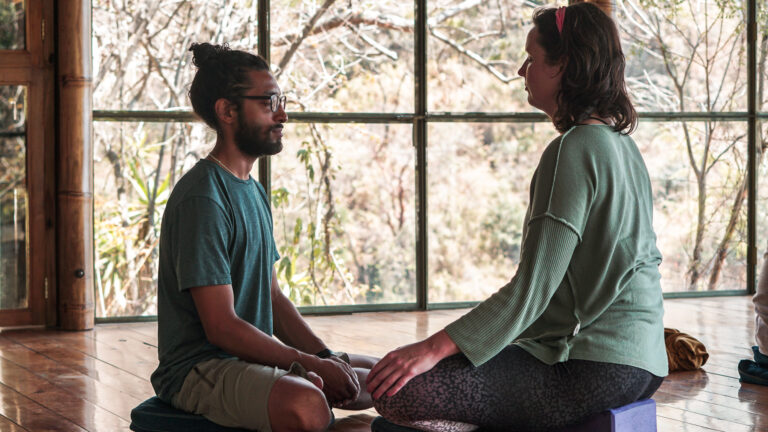 Ready to Rediscover Love?
 Book a call with one of our lead facilitators today. Our experts are here to answer your questions, understand your unique needs, and guide you toward an experience that will reshape your relationship.
Last few slots available on a discount of 100 euros off. 
What people have to say about us?
"Our relationship was at a crossroads when we joined the Couples Retreat. The lack of communication and intimacy was taking a toll on us. The retreat was a turning point. The guidance on effective communication and practicing mindfulness transformed our dynamic. We've rekindled the spark, and our connection is stronger than ever. Thank you for helping us find our way back to each other."
"As a couple, we were struggling to communicate effectively and often found ourselves in heated arguments. The retreat provided us with tools to manage conflicts constructively. The safe space allowed us to open up and address underlying issues. We've not only resolved conflicts but have grown to appreciate each other's perspectives. Our journey with the Couples Retreat has been transformational."